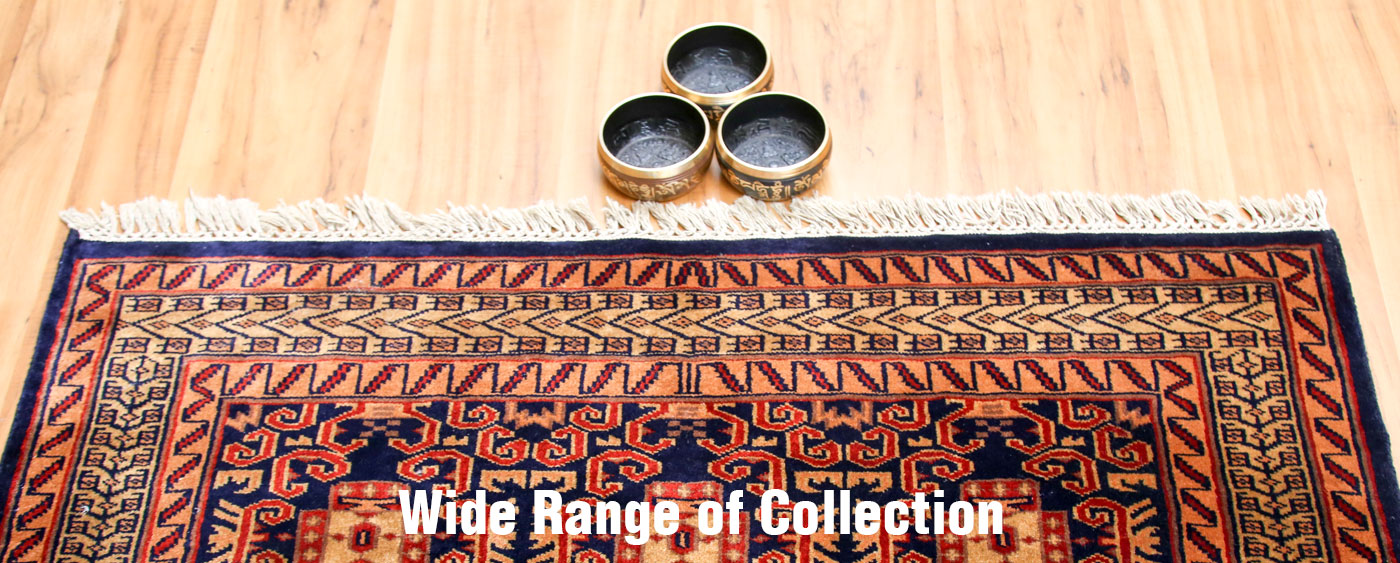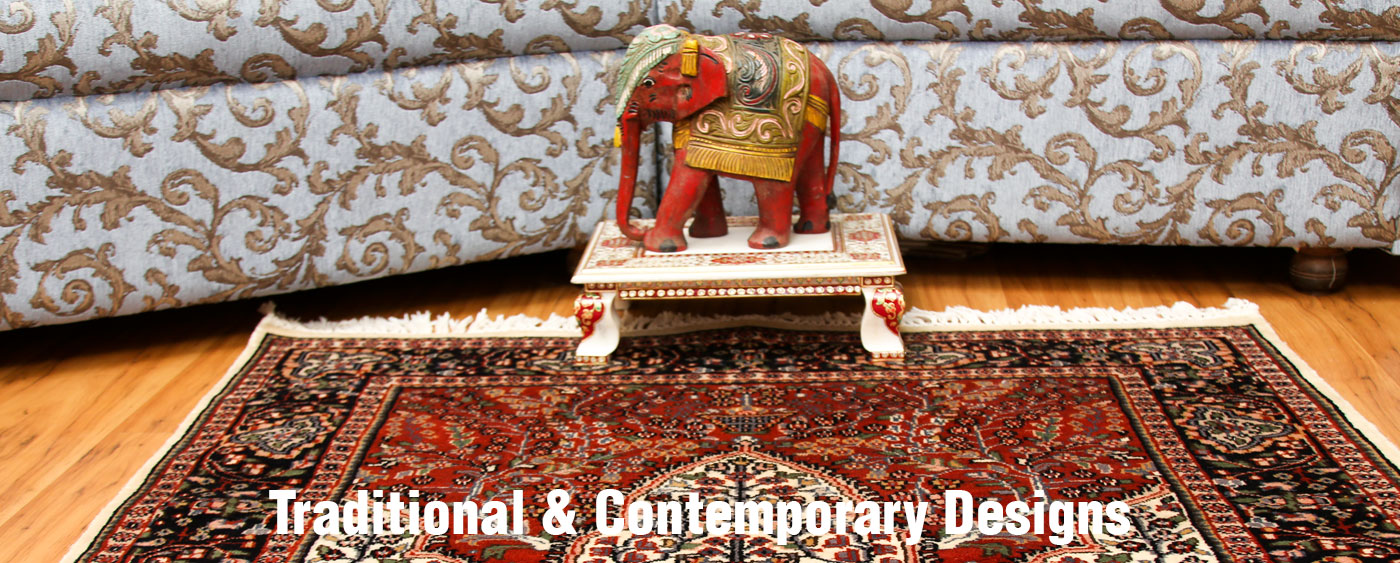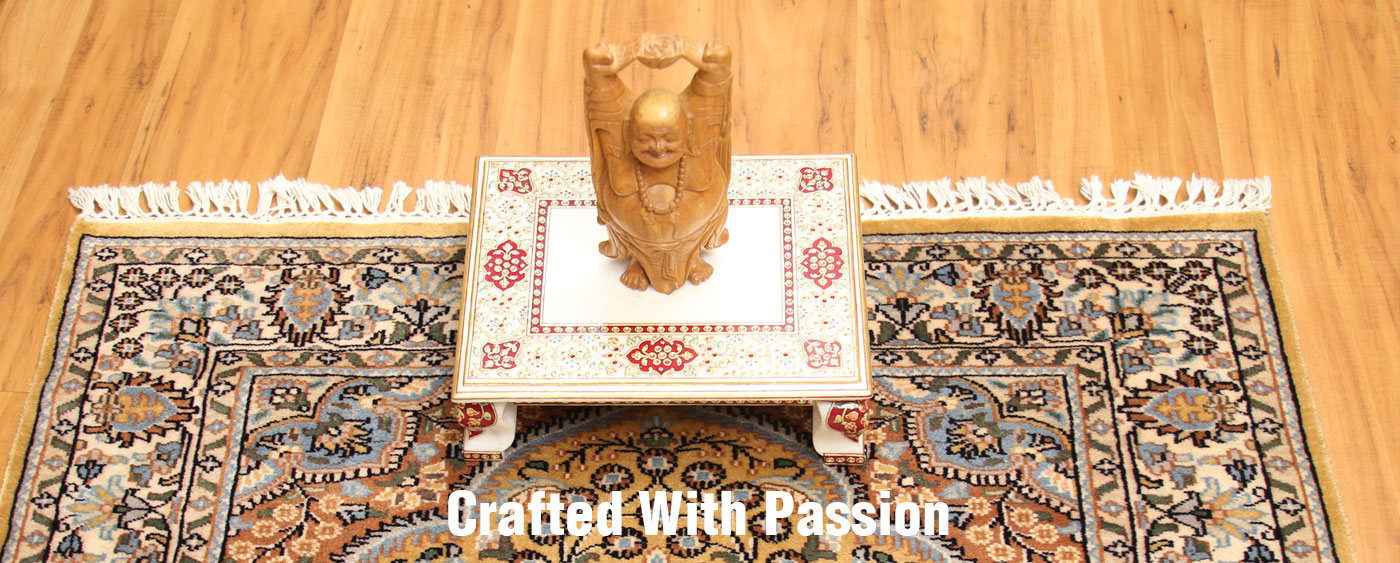 New Launches »
April – 2019: Afghan Collection!
Welcome To Carpets of Kashmir!
The alluring mélange of the enchanting valley of Kashmir is inseparable from the exquisite workmanship of handmade, hand-knotted carpets and rugs that are available in an astonishing collection of diverse colors, designs, and sizes, hence we have the largest collection from carpets of Kashmir.
Our Oriental-style carpets have designs inspired from varied Persian and Indo-Kashmir motifs in floral, traditional styles such as Afshar, Sarouk, Meshkin, Heriz, Shahzaneen, Shalimar-Hamadan, Qum, Tafresh, Moud, and Lilihan. Alongside, we have eclectic Tribal motifs like Shiraz, Shirvan, Ersari Dali, Caravan, Yakub Khani, Kashgar, Kafkaz, and Perpedil Kuba.
Each of our Oriental and Tribal carpets has an enriching legacy that is symbolic of a forgotten era that finds resonance in countless museums through diverse art forms such as paintings, sculptures, textiles, pottery, artifacts and of course, handmade carpets. Each carpet has an astonishing narrative enthused with a rich and vibrant character that is not only appreciated for its beauty but is an inseparable part of an heirloom treasured by a connoisseur!
Our spectacular collection of over 2000+ carpets and rugs is available in pure wool, wool-silk blend, and pure mulberry silk – and each of them is truly one-of-its-kind of an artwork!
These rugs are perfect for Bedrooms, Living Rooms, Dining Rooms, under the coffee-table, corridors, entryways, Dens, Libraries and children rooms as well.
We also specialize in custom-order carpets that are made in the traditional, labor-intensive style of hand-knotted construction and then we have the hand-tufted type of rugs that are best suited for modern, contemporary, and minimalist styles that are specially designed for Hotels, corporate offices, theaters, and public halls.
Besides carpets and rugs, we have an extensive range of the finest Pashminas and Cashmere shawls, stoles, mufflers, and scarves. Pashmina is known to be the most luxurious and softest fiber discovered by mankind. From plain, solid color tones to the extravagant Jamavar Pashminas to the rare Kani Jamavar, we have the most gorgeous collection ever!
We also cater to specific requests for corporate gifting and have a dedicated team to understand your requirements so that we can offer the best possible bulk prices especially for you. We also work closely with your concept and design team to share ideas on packaging solutions and monogramming. Our repertoire includes gifting for product launches, weddings, award ceremonies, felicitations, gifting for your international guests, and yearly promotional events.
We are available round-the-clock – you can choose to connect with us either through email or phone call at our 24X7 numbers or you can even send us an inquiry via WhatsApp and we will immediately respond to your specific request.
Also, we provide FREE shipping within India and to more than 120 countries worldwide through our exclusive tie-up with FedEx. The consignment is delivered at your door within 5 business days and arrives in tamper-proof and weather-resistant packaging. This service includes handling, packaging, transit insurance, and delivery charges. However, this does not include any charges related to duty or import taxes if applicable in your specific country.
We also encourage you to inquire with us for special annual packages related to the care and maintenance of your carpets and rugs and we will be delighted to rejuvenate your treasured masterpieces with a thorough round of washing, shampooing, repairs, or restoration, as required. Please note that this service is available only in Mumbai, India.
We look forward to your inquiries and will be delighted to share our expertise so that the entire experience of investing in a masterpiece from Kashmir becomes an unforgettable one which you will cherish for a lifetime!
To know more about our company that was established in 1979, please click here…
Read more