We have the most stunning range of spectacular living room carpets and rugs in a wide selection of Oriental, traditional designs and in Geometric, tribal motifs. These large size carpets & rugs can be placed in Living Rooms, Dining Rooms and Master Bedrooms too.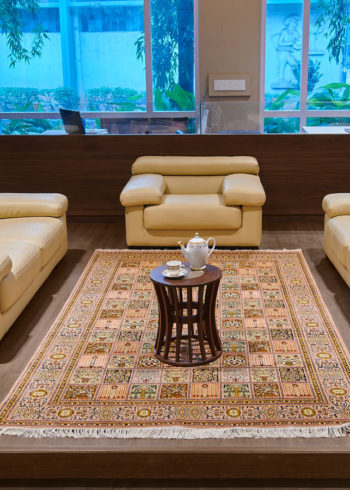 Of all the rooms in your residence, the living room is the one that gets most visibility, hence the importance of have a wide range of living room carpets and rugs that suits everyone!
Every guest, friend, colleague and neighbor steps in your living room first and encounters your bespoke home decor.
Hence, it is practically the single most important room in your home.
In Western culture, the living room is also refereed to as front room,lounge room, lounge or sitting room.
A well designed living room with planned and professionally designed décor with matching living room carpet / rug, adds to the grandeur of the place and makes your guest feel the wow!
Customised Living Room Carpets and Rugs »
Our living room carpets and rugs are available in wide range of sizes, designs, colours and shapes.
Although, the most common shape is rectangular, we would love to produce a custom-made carpet for your living room.
With a custom-designed carpet, you will be the designer of the carpet with complete control over the size as well as other specifications like; choice of material: pure silk, silk-wool and 100% pure Merino wool.
Living room carpets and rugs are also ready in stock, available at our showroom at World Trade Centre in Mumbai.
Feel free to contact us and we will be glad to assist you in selecting the best choice for your living room.
Our large living room carpets and rugs are truly fit for modern-day palaces and will most certainly add warmth, color, pattern, and most importantly will lend an individualistic touch to your room, whether you go for a traditional or a contemporary look.
Choose from a large selection in a range of patterns, colors and qualities (types of materials) in varied prices that would suit any decor.
Let our Oriental carpets and rugs in wool, wool/silk or in pure silk embellish your elegant living room or a formal sitting area or you may even dramatize the entire setting by choosing a Tribal rug from our unique Caravan collection.
And in case you have a personalized taste, then how about custom-ordering your very own rug in your own signature style?
In addition to living room oriental carpets and rugs, we have a vast range of wool and cotton durries.
OUR CONTACT DETAILS
Kashmir Oriental Carpet Enterprises