We have the most stunning range of spectacular large size carpets in a wide selection of Oriental, traditional designs and in Geometric, tribal motifs. These large sizes can be placed in Living Rooms, Dining Rooms and extra-large sized Bedrooms too.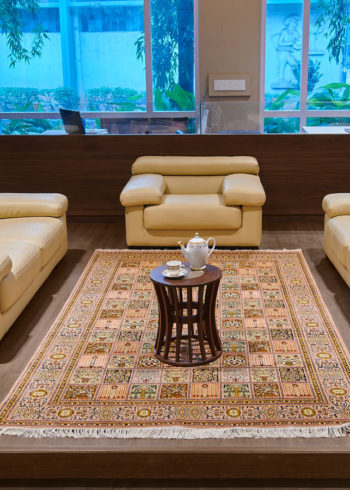 Our large size carpets are truly fit for modern-day palaces and will most certainly add warmth, color, pattern, and most importantly will lend an individualistic touch to your room, whether you go for a traditional or a contemporary look. Choose from a large selection in a range of patterns, colors and qualities (types of materials) in varied prices that would suit any dcor.
Let our Oriental carpets and rugs in wool, wool/silk or in pure silk embellish your elegant Living room or a Formal sitting area or you may even dramatize the entire setting by choosing a Tribal rug from our unique Caravan collection. And in case you have a personalized taste, then how about custom-ordering your very own rug in your own signature style?
OUR CONTACT DETAILS
Kashmir Oriental Carpet Enterprises