Carpets & Rugs Cleaning, Repairs & Restoration in Mumbai »
We undertake dry-cleaning, repairing, and restoration of all types of carpets and rugs, whatever make, size, origin, or condition. We have our workshop in Mumbai where our expert team is involved in cleaning wool, silk, wool-silk blends, cotton and even machine-made carpets
Usually we clean carpets and rug in 7 to 10 days time depending on the quantity, sizes, condition and weather. Moreover we do all this at most reasonable and realistic prices. Being carpet manufacturers for the last 40 years we have an in-depth knowledge and expertise to provide the best quality of dry cleaning and shampooing services in Mumbai for your expensive carpets! Trust us for the best carpet cleaning services in Mumbai.
We only use top quality detergent based or organic products for our cleaning services. We guarantee the removal of extensive, stubborn build-up of dirt and soil in your carpets and rugs. We use Eco-friendly products in our cleaning methods. Contrary to perception we highly recommend a thorough washing of carpets in Mumbai considering the dust and dirt in the atmosphere.
At Carpets of Kashmir, we provide dedicated service of professional cleaning of coffee table rugs, living room rugs, bedroom, dining room carpets as well as wall hangings.
We are experienced at dealing with the many kinds of problems your carpets may have encountered. To achieve perfect and safe cleaning results, your carpets will be tested for color fastness before we wash them. If your carpet fails the test, and the colors are likely to bleed, then we will use special methods like dry cleaning or steam-cleaning. Before we start the process we will check to see if there are areas on the carpet that is more soiled, or if there are any stains on the carpet. If so, we pre-treat these areas and inform you about the process.
We specialize in the cleaning of hand-made carpets and rugs from India, Persia (Iran), Turkey or from any other Tribal region in the world. And these could be new, antique or semi-antique – no matter what kind, we will do the job! We have restored and repaired carpets that have been a part of family heirlooms for generations and given them a new lease of life. If you would like to restore your antique or vintage rug at most reasonable cost and with proven expertise then your one-stop shop for carpet repairs and restoration is in The World Trade Centre in Mumbai. Call us and we would be happy to help!
We are experts at removing stains, using many different special products, but please understand that not all stains can be removed, as they may have permanently changed the colors of the fabric, particularly wool.
For the best carpet cleaning, washing, and shampooing service in Mumbai – please contact us at +91 98193 09474.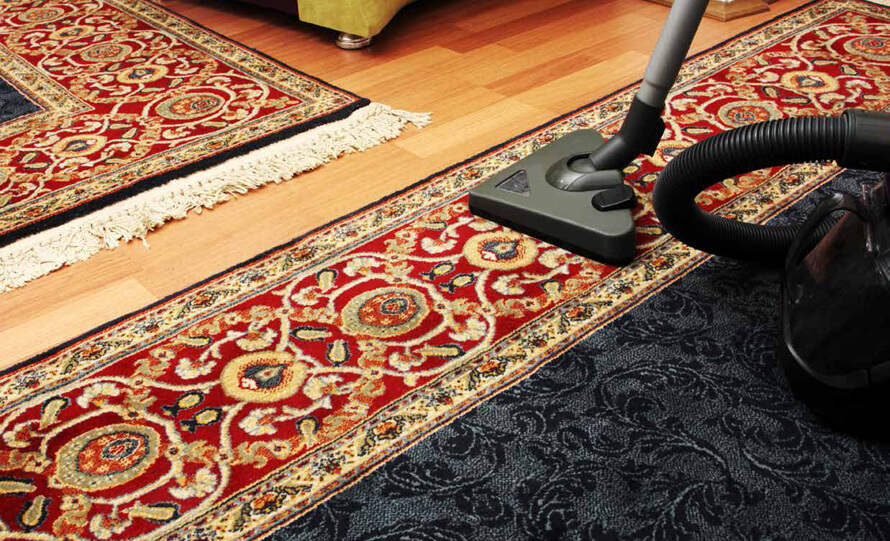 First, as much dust as possible is removed from the carpets, by putting them through a special carpet duster. Then the carpets are washed by hand, and depending on the type, completely submersed and soaked in water. Depending on material and condition, all carpets are cleaned using different products. The carpets are then rinsed carefully front and back. After this thorough cleaning, the carpets are put through a special roller wringer, which gives them a final rinse and removes as much water as possible, in order to facilitate the drying process. The carpets are then hung to dry in a warehouse drying room.
All the products are work of art and are entirely hand-made handcrafted product of Kashmir, India that has been painstakingly created using the finest handpicked natural fibers and dyes.
As you are already aware that this is indeed a lifetime purchase, nonetheless it is in your hands to ensure that it is certainly so and can thus become a treasured and precious part of your family heirloom that can be cherished for years to come.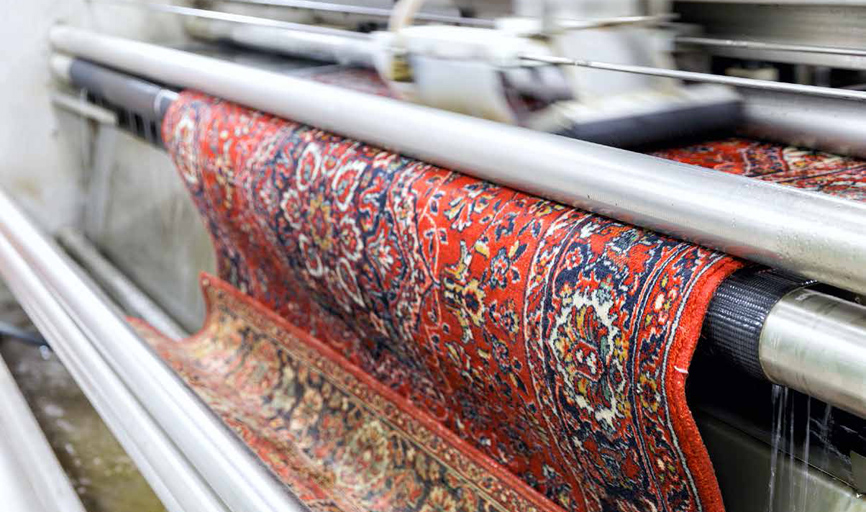 To be dry-cleaned or steam cleaned or hand washed only.
---
Use only cold or lukewarm water and carpet shampoo for scrubbing with the help of a cotton swab or a sponge.
---
Do not use strong detergents or solutions with concentrated alkaline contents.
---
Avoid drenching the entire carpet and dry the back of the carpet first if and when soaked.
---
Avoid direct sunlight on the carpet.
---
Please Vacuum or Hoover the carpet along with the pile of the carpet and never against the pile (i.e. only in one direction).
---
As the carpets are Moth proof hence do not use any naphthalene balls or anything similar for storage purposes.

Walk on your Rug Barefoot
The best way to keep a rug clean and long lasting is to keep it from getting dirty. Removing your outdoor shoes when you enter the house is an easy way to add years to the life of your rug, and to decrease the expense of professional cleanings. Bare foot, clean slipper or sock footed traffic is much kinder to your rug than hard soled or high-heeled shoes. Leaving your outdoor shoes at the entrance to you home tracks in much less dirt.
Having several pairs of clean cotton slippers in different sizes for your guests will encourage visitors to relax and feel at home while protecting your carpets.
And don't forget to:
Vacuum regularly
Remove spills immediately
Professional cleaning (for residential use: once every year or two)

Basic Directions For Stain Removal
To remove stains and add to the beauty and life of your carpet use the following instructions in order. Removal of most common stains is easiest if attended to promptly. Apply cleaning materials directly to the stain. Allow to stand for ten seconds and then blot, do not wipe. Always test for color fastness on an inconspicuous spot on the carpet.
Remove excess soil promptly by blotting or scraping with a dull edge first. The back edge of a butter knife works well. Do not wipe stain. Always blot gently with an absorbent clean white cloth.
Avoid getting the carpet too wet.
When dry, gently brush to restore pile.
Some stains are difficult to remove and you may need to repeat the process several times
Some stains are permanent and must be removed with the help of a professional carpet cleaner.

How to Determine if Your Rug Needs Professional Cleaning?
While lifting a corner of the rug, kick the back of the rug briskly. If a cloud of dust flies out of the pile, the rug is dirty and needs cleaning.
If your hand becomes dirty after rubbing the pile vigorously for five to ten seconds, the rug needs cleaning.
With the pile facing you, fold a part of the rug back on itself so that the pile opens along a line of knots. Look down into the pile at the foundation of the rug. If the warp and weft look dirty, or you can see dirt deep where the vacuum can't reach it, the rug needs cleaning.

How to Find a Qualified Carpet Cleaner?
Do not trust just any cleaner with your fine rugs. In order to find a qualified expert you can try several approaches. If there is a dealer of fine oriental carpets in your area inquire as to who they recommend to their customers. You can approach a museum and inquire about who they trust. You can find a carpet cleaner through the "Yellow Pages" or the internet, but always ask for references and take the time to call several past customers to see if they were satisfied.