Are you tired of seeing paintings, tapestry, etc. on your walls and do you want to go different? How about our Oriental carpets and rugs as wall-hangings? Inspired from ornate and magnificent Palaces of the Orient is the art of having a hand-made, hand-knotted Oriental carpet or a rug on your walls.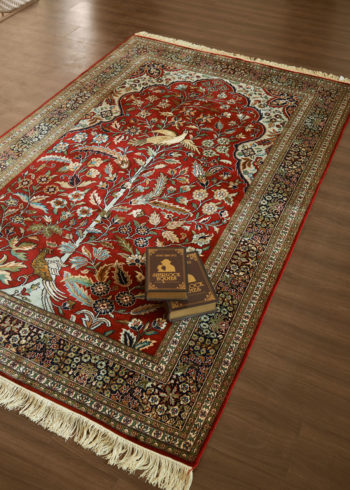 Create a well-lit niche in the wall of your Living Room and try the concept of our carpets as Wall-hangings. It will break the clutter. A work of art like the Tree-of-Life or The Hunt in pure silk will be absolutely fantastic.
Choose from a range of sizes such as 3 by 2, 4 by 2 , 5 by 3, 6 by 4 or a 7 by 5 in wool, wool/silk or in pure silk (most preferable for the intricate detailing) in a dazzling range of color options. We also assist you in suggesting ways to hang the carpet along with selecting the right size, colors and design.
OUR CONTACT DETAILS
Kashmir Oriental Carpet Enterprises