Silk Carpets for Living Rooms
Living room is called as the showcase of a home; hence silk carpets for living rooms!
We tend to spend a majority of waking time in the living room; hence it becomes pertinent to make it the best. Silk carpets for living rooms add the magical touch to your bespoke home.

Home décor begins with living room; also known as the lounge room, lounge or even referred to as the sitting room.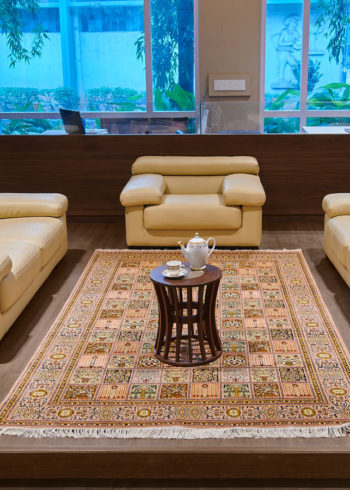 In some parts of the world; they are called as front room; as this is the first room that a person entering the home steps into.
As you tend to spend majority of the time in this room; this place is decorated with the utmost care and finesse.
The interiors of a living room reflect the standards, thought and living standards of the residents.
There is no point in having a shabby living room and an exclusively designed bespoke bedroom.
Keeping all these in mind; we at Carpets of Kashmir have the wide range of carpets for our discerning clients to choose from.
The silk carpets for living rooms come in options depending on size, shape, design and colors.
All of these are equally popular in their usage; depending on an individual choice.
As living rooms can vary in size from 10 ft to 14 ft onwards all the way to large living rooms in spacious apartments, bungalows and row houses, we have equally vast range of sizes from 6 ft by 9 ft to even 12 ft by 18 ft.
There are always instances where our clients look for unique carpets!
For such discerning clients we offer: custom made carpets option.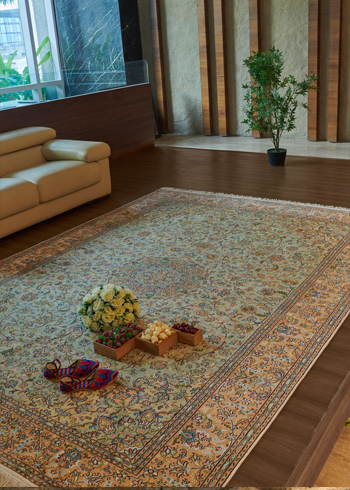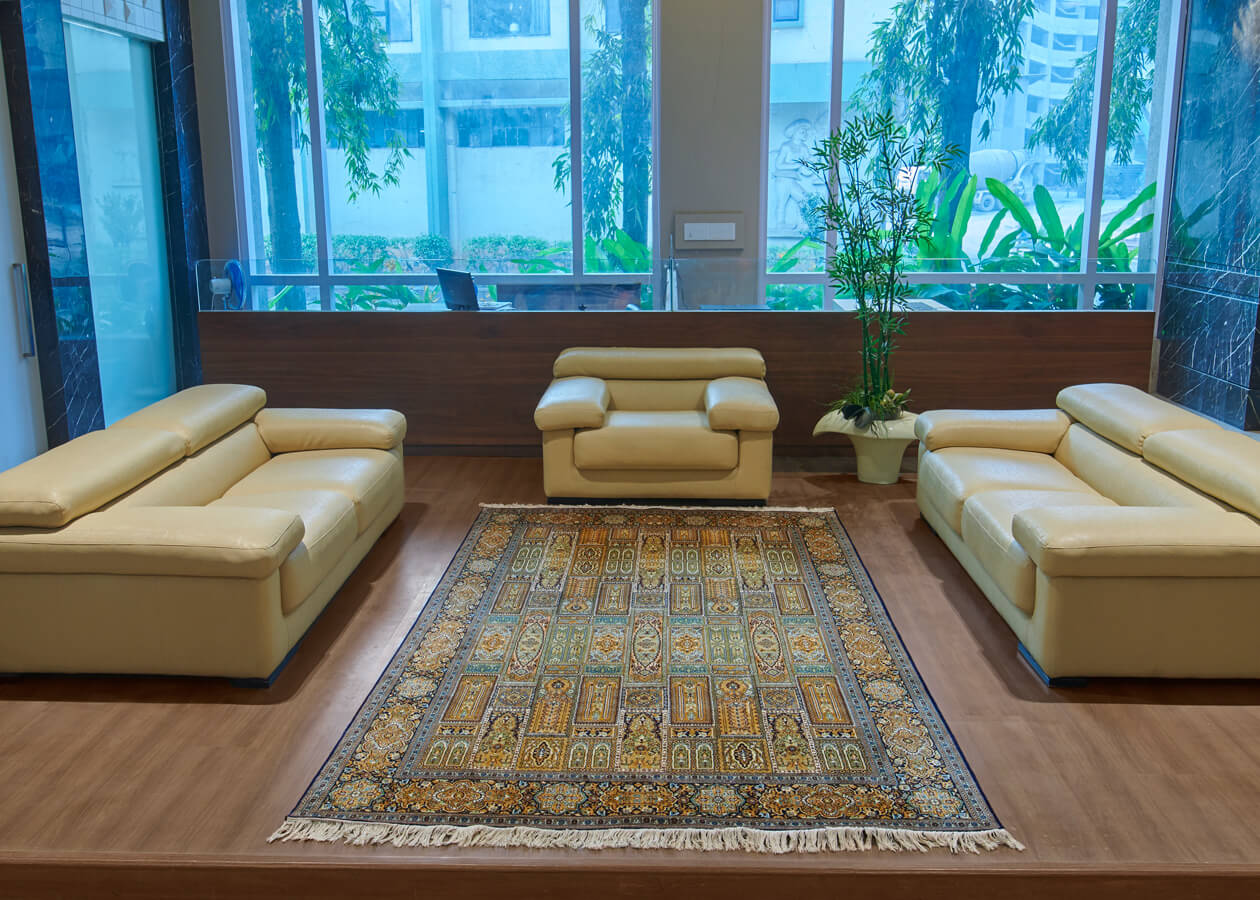 There are several advantages of getting your custom designed silk carpet:
Choice of design: Geometric / Floral / contemporary / abstract.

Size: As per the dimensions of the room and furniture placement; the size can be custom-made to suit the living room.

Color scheme: This is one of the most critical aspects that our clients focus on; during the custom made carpets order. The living room theme is taken into serious consideration and as per the guidance of the interior decorator or the design expert; the selection is done. We have the complete Pantone shade card from which our clients can make a selection: base color, border color, motif colors, etc.

Shape: In addition to the 'standard' rectangular carpets, one can also opt for square, round, hexagonal or octagonal shapes.
Once these are finalized; the design is made by our skilled artisans and after approval of the CAD (computer-aided design) from our clients, the project is executed.
The typical time frame for the delivery depends on various factors like: size, pattern and type of material selected for the carpet.
We strive to deliver the art piece within 8 weeks after placement of the order. Sometimes, for large size carpets for spacious living rooms, it may take 18 to 24 weeks!
Why silk carpets for living rooms?
There are two main reasons for selecting oriental silk carpets for living room.
Just Gorgeous: Pure silk carpets are just exquisite. There are few home décor items that compare with an oriental design silk carpet / rug.
The alluring effect of a silk carpet on the living room ambiance is similar in some manner to a well selected bespoke crystal chandelier; that adds to the feeling of richness to the room.
Incomparable Brilliance: A well matching oriental silk carpet in floral, geometric or traditional motifs just 'shines' like a jewel under any light conditions.
The feeling on having a radiating carpet that is hand woven is a special one.
Light plays games on a silk carpet! The carpet actually 'looks' different during the day time and divergent in night light. Even during the entire day, depending on the angle at which the outdoor light falls inside the room, the shades displayed change!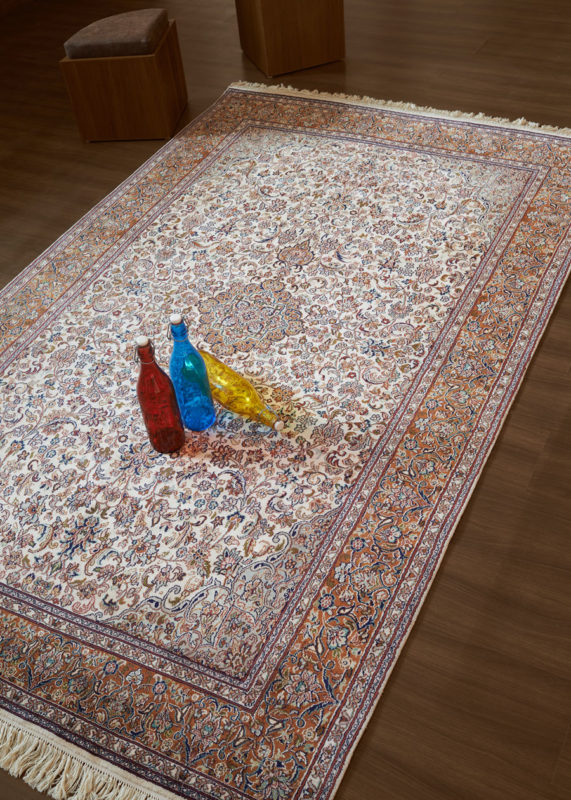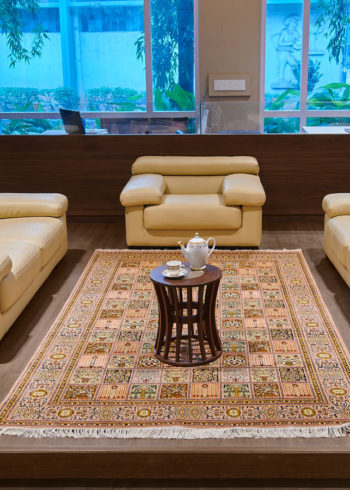 Collection of Best Silk Carpets & Rugs »
With 2,000+ carpets in our ready to purchase silk carpets and rugs stock at our Mumbai, World Trade Centre showroom, we offer a wide range of options.
The living room pure silk carpets at our showroom are available in sizes ranging from 9 ft x 6 ft to 12 ft x 9 ft besides the smaller size silk carpets.
OUR CONTACT DETAILS
Kashmir Oriental Carpet Enterprises