Durries as these are termed today are one of the most primordial styles of floor coverings known to mankind. Durries are also known as Kilims in Turkey and other surrounding regions.
Types of durries »

Our kilim dhurrie rugs are one of the most popular home decor products that our customers buy in addition to the oriental carpets for their bedrooms, living rooms and under the coffee table rugs.
Durries are extremely versatile and are apt for the new generation of practical décor homes.
Wool Durries »
Floral dhurrie rugs made of pure wool are popular for placement in the living rooms as well as bedrooms. These are also called as flat weave wool rugs as they have pile thickness that is much less than the regular oriental carpets.
We provide specialized service of oversized dhurrie rugs that are custom ordered for our global and domestic clients for their bespoke homes and commercial establishments.
Our Durries are made in wide ranging designs inspired from Tribal motifs and culture of the bygone era and are also available in contemporary, minimalist styles that are full of verve and eclectic ethos.
Cotton Durries »
As a leading cotton durries manufacturer in India, we have vast collection of 100+ cotton durries at our World Trade Centre Mumbai Showroom; where you are welcome to experience some first-hand cotton durries in vast range of sizes, designs and colours.
The cotton dhurrie rugs can also be custom ordered, so that you become the designer and have an unique cotton durrie for your bespoke home.
Geometrics, honey combs, waves, peaks, basket weaves and chic floral motifs are some of the popular design styles in Durries and are interpreted in a multitude of fresh colors such as sea blue, wheat, cranberry, pale gold, apricot and glacier gray or classic universal tones like rust, copper, ultramarine blue, emerald green and ivory, depending on an individual preference.
Our Durries are completely hand-made, hand-woven in various regions in India. Durries today are being made in a variety of hand-spun natural fibers such as wool, cotton, hemp, sisal and blends of wool/hemp as well.
Durries as the name suggests do not have knots and are without any pile. Due to this distinctive facet, Durries can be used both ways as these are reversible too! This unique feature is the hallmark of the functionality of these multipurpose rugs. Being reversible, Durries require less washing/shampooing and thus help in saving a precious resource such as water and can truly be labeled as the most eco-friendly category of floor rugs.
Our Durries can be placed anywhere from a living room to a library or a bedroom, open kitchen and even in a bathroom! Of course, Durries have been ever popular in the children room, balcony and in front of the fire place.
Essentially, Durries work best for people who desire simplicity blended with élan and practicality combined with conviviality.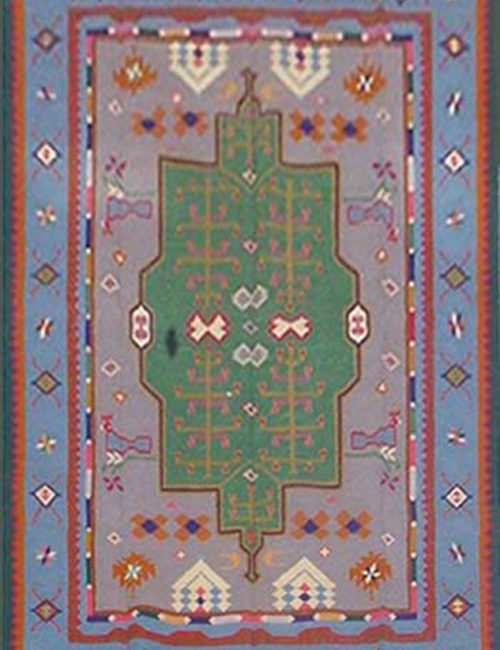 Custom-Order Durries »
Besides the ready in stock Durries, we offer a colossal range of designs and motifs for custom-made Durries in almost 2000 colors of the Pantone shade card.
Our custom-ordered Durries can be made in any design or motif that you select from our catalog or you can always send us your own sketch or a picture of the design that you would like us to recreate and we will most certainly do it for you!
We also offer to make strike-offs (samples) in sizes such as 1'x1' or 2'x2' on request and for a nominal cost. Once you have received the strike-off and have approved it, we will then initiate the process of custom making the actual Dhurrie in the required colors, design, size and quality. The strike-offs or the samples are generally made in 3 to 4 weeks from the time the specifications are finalized.
Our Durries can be ordered in any size, shape, materials (fibers), colors and design. The popular sizes for ordering are – 3'x2', 4'x2½', 5'x3', 6'x4', 7'x5', 8'x5', 9'x6', 10'x7', 10'x8', 12'x9', 14'x10', 15'x12' and 18'x12' – all measurements mentioned are in length x width format. Besides we also do custom-made runners in Durries; typical sizes are 6'x2', 8'x2', 8'x2½', 10'x2½', 12'x2½', 10'x3', 12'x3', 15'x3', 18'x3' and lengths up to 50' can be made.
A typical time frame for a custom-order Dhurrie in wool or cotton in a size like 9'x6' size takes 8 weeks time to be made. For other sizes the time will be couple of weeks less or more depending on the measurements, selection of the fibers and complexity of the design amongst other factors.
Our company specializes in creating exclusive masterpieces for our numerous clients who demand products that are unique, rare and that are unavailable in regular inventory. Hence customization is offered in such cases wherein the buyer wants a Dhurrie to be produced as per her choice related to colors, designs, sizes, shapes, motifs, quality and type that would complement not just the décor or theme of the house but would reflect the inherent personality of the person!
Our custom-made rugs are almost entirely made for our export market in US, Canada, Germany, UK, France, Singapore and Australia. Many of the up-market rug and carpet stores worldwide carry our products albeit sold under various brand names and in stylized packaging.
Custom-making rugs are a passion for our company as it presents an opportunity to delve deep in a yet-unexplored realm of creativity. We believe that a custom-order rug is akin to commissioning a piece of art – a masterpiece that one treasure's for a lifetime!
OUR CONTACT DETAILS
Kashmir Oriental Carpet Enterprises