We have a unique, dedicated category of geometric design rugs and  carpets and rugs that have geometric patterns and motifs and are essentially Tribal origin motifs known as Caravan collection. Caravan – the name itself conjures visualization of camels, sand dunes, picture-perfect oasis scattered with heavily laden palm trees and of course the smiling and effervescent people of the sunny desert.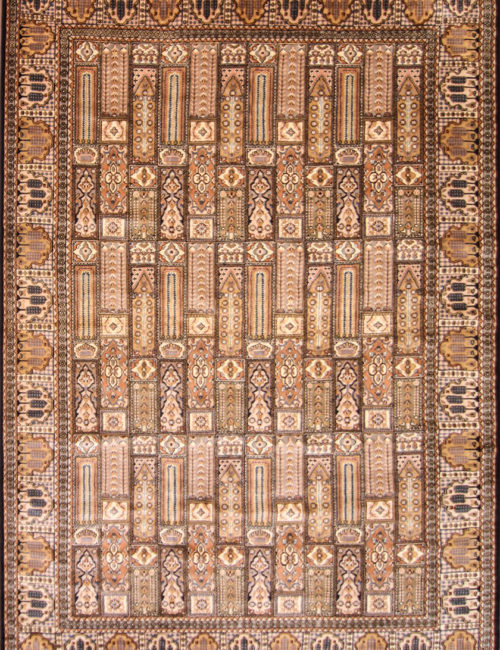 Our geometric design rugs which are handmade hand knotted range has been inspired from this tranquil milieu, the primordial symbols from varied forms of art and culture and the amazing riot of colors that can be found in this most unusual setting.
After years of interaction with people from various walks of life in the mountainous areas of Kashmir, Afghanistan, Kazakhstan along with the diverse lands of Turkey, Morocco and Arabia and understanding their varied language, culture, ethnicity of art, we have been able to capture their nuances, often unexplored, in to the realm of carpets and this is what makes the collection truly magnificent and incomparable.
The geometric design rugs range embeds reflections of the mottled streams of music, drama, festivals, poetry, warfare, athletics and other forms of the tribal ethos making it a truly all-encompassing canvas of a forgotten civilization.
All our geometric design rugs are new, unused and are not old or antique, but, most of these have been given a certain look and appearance that make them feel 'antiquated'.
This is a deliberate feature that is much appreciated by lovers and connoisseurs of tribal art the world over. No Caravan carpet has any defect and are never repaired, renovated or refurbished as any old tribal carpet generally is.
The geometric design rugs are made in our factory in Kashmir, India along with all our other products, albeit with a different set of skilled artisans who have gained expertise in this rare and not common way of expressive tribal art.
The geometric design rugs are one of the most popular category of rugs for living rooms, dining rooms, bedrooms and even as coffee table rugs.
Many of the Caravan designs have been motivated by original carpet motifs and patterns found in various parts of the world, including museum collections, artifacts, primordial manuscripts, sculpture, pottery, paintings (oil, canvas, etc.) and other rich forms of art and inspirations of daily life from the nomadic world.
As one may understand, many of these designs have been quite popular among carpet collectors since generations and have been known by various names interpreted in different ways, usually by the origin of the tribes, however we have chosen a simple, yet, distinct style of nomenclature for our Caravan carpets. Majority of these labels represent the unique motif and distinct style of every individual Caravan carpet in a most succinct manner.
However, you can be sure of the fact, that apart from these titles, all the geometric design rugs and carpets are deeply rooted in the antediluvian tribal form of art colored in spectacular tones with highly individualistic symbols and motifs that are uniquely singular and full of alluring magnetism.
Are you interested in getting a custom made geometric carpets? Please feel free to on call our carpet expert; Rohit Sharma who has 20+ years of experience in guiding our global and domestic clients for selecting the most appropriate carpets for their bespoke homes and even offices!
Caravan carpets are recommended for all kinds of homes (and workplaces) and would bring out the best in your decor, be it, the Victorian style, Renaissance, Art-deco, modern, ultra-contemporary or the minimalist theme of the present age.
P.S. Caravan carpets are highly addictive and buying one may never be enough – the sheer pull of Caravan carpets is spellbinding. So, go ahead and buy one today and discover the world of the forgotten tribe!
For design aficionados, we would like to mention that all our Caravan motifs have been inspired from old carpet and rug designs of Turkish, Kazak, Afghan, Turkoman, East Turkistan, Mamluk (Egyptian), Central and West Anatolian, Ottoman and other Caucasian origin.
Some of the designs in this category are also semi-floral motifs having an amalgamation of floral patterns inside rectangular or square boxes.
These motifs have an assemblage of unusual shaped boxes (rows & columns of squares are seen in Hamadan & Qum, while square, rectangles, etc. are strategically woven in the Bakhtiari motif) representing various symbolic motifs placed in one field of intricate pattern.
The imagination behind the creativity of every such motif is immensely artistic, what, with its non-repetitive pattern of various designs in speckled hues and colors of diversity ever expanding with a new and unique motif in numerous 'boxes' of creative beauty that continuously mesmerize the beholder by its exquisite finery, marvelous workmanship and individualism.
In addition to geometric oriental carpets and rugs, we have a vast range of wool and cotton durries in geometric designs.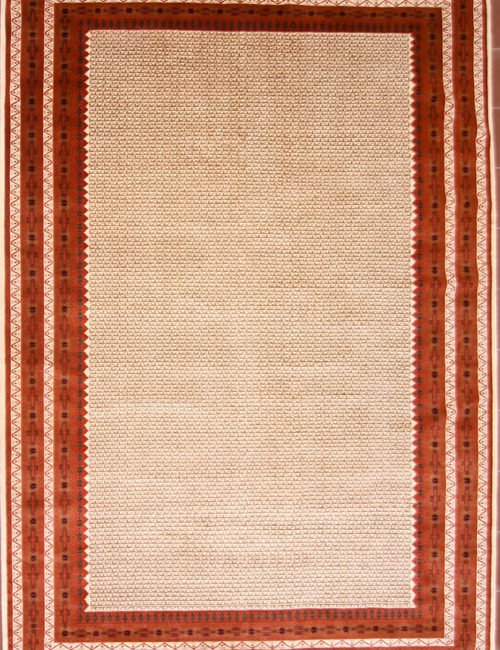 OUR CONTACT DETAILS
Kashmir Oriental Carpet Enterprises